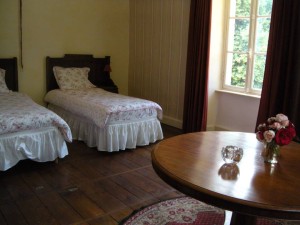 Albert II, is a four-roomed suite, situated over the porte-cochere.  The bathroom has a footed bathtub and shower, and a hand basin.  White marble fireplace, and votive candles surrounding the wainscoted room.  Window with a beautiful view of the front park.
Bedroom has a king size bed, which can be converted to two singles.  Reading lamps on both sides. Two windows overlooking the grand entrance to the chateau and of the park. This room has a marble fireplace and armoire, a round table, and two upholstered arm chairs.
The private toilet room has a toilet, as well as a hand basin, and a small window with another beautiful view. This room was named after King Albert II, of Belgium, who slept in the chateau for several months when the Nazis invaded Belgium in the 1940's. (Albert has now stepped down from the throne, where his son has taken his place.)  A  very delightful suite.
Here is a selection of images of the 'Chambre Albert'….