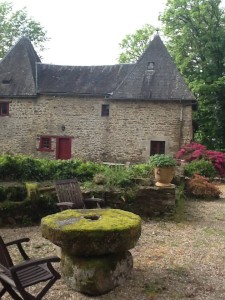 There are 3 gites at the Chateau de Bellefond:  The Lake Gite which sleeps 7 in 3 bedrooms, the Garden Gite which sleeps 8 in 3 bedrooms and the Honeymoon Gite which sleeps 2 in 1 bedroom …naturally!
Our Gites feature modern fully furnished kitchens, with range, dishwasher, refrigerator, and freezer.  Clothes washer and dryer are also furnished in each gite.   Television and wifi are available in each gite, as well.
Our guests are welcome to use our outdoor facilities, which include tables and chairs, charcoal grills, swings, local walking paths, as well as catch and release fishing in our private lake.
Our Gites are available for weekly rentals only, from Saturday 3 pm, to Saturday morning, 10 am.
Bed Linens are normally supplied by the guest, but will be furnished for your stay for an additional 90 euros.
Guests are responsible for housekeeping, but should you prefer our staff clean the Gite at the conclusion of your visit, this service is also offered, at an additional 90 euros.
If you wish additional specific information about the gites, please click here to go to our Contact page where you can call or write to us.