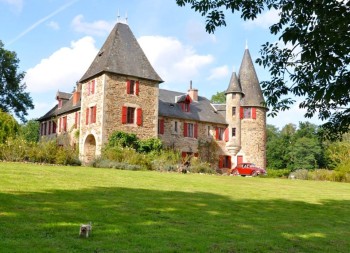 Beautiful ancient paizo cobblestone floors in the entrance/reception room, dining room, and kitchen. 10′ ceilings throughout.  Dining room with original wood paneling, and wood stove/fireplace.
Hand painted stenciled vaulted ceiling.
Dining room furniture to accommodate 32.
Large buffet and amply stocked china, silverware, and glasses.
French doors between dining room and kitchen can be opened to
make one large room.
Kitchen furniture will accommodate 8 diners.
Huge beautiful kitchen, with a slate sink, and Louis XIV furnishings.
Aga range with four ovens. (propane)
French doors from the kitchen open to the rear terraces. Exterior stairs from the terrace lead to private lake, Mediterranean garden, and hiking paths.
Dishwasher/pantry room with wine cooler and two refrigerators, commercial dishwasher (500 plates per hour!), sink and large counter space.
Laundry/utility room with washer, dryer, ironing machine, and freezer. Shelves with additional towels and bed linens. Outdoor pulley system clothesline accessible through window in laundry room.
Separate WC between dishwasher/pantry room and laundry/utility room.
One bedroom on ground level, with sink, shower, and large closet.   Full bed with armoire and several chairs.
Music room/sitting room with Victorian sofas and chairs. Grand piano and concert grand harp, (musical instruments not for children's use and will be kept locked unless specifically agreed otherwise with the owners) television, and Wi-Fi internet. Large antique gold mirror over mantle, with wood burning stove in fireplace. Ancient hand painted ceiling, with the family crest in the center. Beautiful old wood flooring. French doors leading from the music room to the side garden. Crescent shaped stone stairs open to a lovely garden with an antique grindstone table and outdoor wood furniture. This garden is surrounded by a stone wall bordered with ivy, looking down toward the lake. The entranceway is flanked by a 15′ camellia tree, and clematis vine.
The library is filled with over 2,000 books, both fiction and non-fiction, and it is open to the public on Saturdays from 2 pm to 4 pm. It is furnished with antiques, including two lovely lamps, and an antique chandelier. An old tapestry of falconry hangs on the wall.
Gentlemens and Ladies toilets are located to the rear of the reception
area.
The main stairway leads to the bed chamber level of the chateau.  The walls have been covered with restful color coordinated fabrics, and a huge chandelier lights your way to the upper floor.
A spiral stairway toward the rear of the Château leads to both first and second bed chamber levels of the Château.