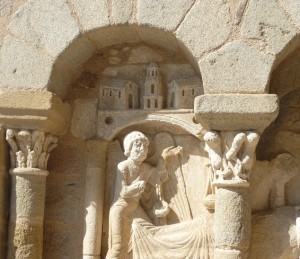 The château is located between Lagrauliere and St. Clement. We are located approximately 5 hours south of Paris, and a little over two hours north of Toulouse in south central France.  (Find us on a
Google Map by clicking here
)
Markets and Shopping
The best one is in Brive on Saturday mornings, and we have had guests come from other countries to visit the market! Fantastic food, crafts and general stuff. There's a smaller market in our local town of Lagrauliere, easy walking distance, on back pathways (just food) on Tuesday mornings. We have several wonderful small towns to visit, Uzerche (a medieval city with a wonderful cathedral with tombs underneath), Tulle, and Seilhac. Local supermarkets such as 'Super U' and Intermarche are available for supplies, and most small towns have their own bakery or patisserie. Our's sells fresh home baked bread every day, and a big selection of croissants, chocolate filled croissants (pain de chocolat), quiches, tarts, and also chocolates.
Festivals and Street Parties
We have lots of festivals and special attractions, and will be happy to fill you in on what is going on when you arrive. During July and August there are street parties each Thursday evening at Sainte-Fereole. Arrive about 7.30 or 8pm, buy your wine and food from the stalls and join the live music and fun.
Flea Market
Vide-greniers (similar to a flea market) are a wonderful way to spend a Sunday, and take place all summer in a different small town each Sunday.
Day Trips
There are many things to do, and we will be happy to give you ideas for day trips: Rocamadour, Martel, (a nostalgic steam railway runs between Martel and St. Denis), Pompadour (horses!), and Collonges-la-Rouge (a city built entirely with red sandstone), just to name a few.