INTRODUCTION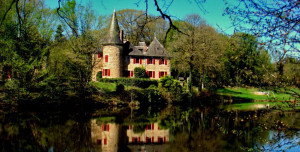 Château de Bellefond is a superb, imposing, authentic stone castle dating back to the 13th Century, complete with a porte-cochère, and towers. The château may be rented per day, per week, or per month. The château may be rented in combination with any or all of the gites. Situated in beautiful rural countryside, within its own 12 hectare, private estate, and one mile from the small town of Lagrauliere. The chateau is in the Corrèze department, Limousin region of south-central France, five hours south of Paris, and 30 minutes from Brive-la-Gaillarde, famous for its large Saturday morning market.
Invalid Displayed Gallery
The old stone outbuildings and carriage house adjacent to the château have been renovated to a very high standard to offer three complete modern living accommodations, each self-sufficient, with cooking and laundry facilities, refrigerator, freezer, dishwasher, linens, dinnerware, utensils, television and wifi. Gites are rented by the week only, from Saturday afternoon to Saturday morning, and can be rented separately or in combination with other gites or with the chateau. Our spectacular private lake sits to the rear of the chateau, easily accessible to gites, as well. Fishing is available for our guests. Our beautiful, private Mediterranean Garden, complete with ancient olive tree and round table, is available for use to guests of the château, for dining, cocktails, or relaxation by the lake. Lavender, hydrangea, roses and rhododendron outline the front of the château, and acres of manicured lawn and ancient trees and shrubs provide a spectacular parkland for our guests to enjoy. Paths have been created through the woods, and public pathways lead to the small nearby town of Tronc (at one time it housed the workers of the château), "Fontaine de Bellefond" the famous spring our château was named for, and the small town of Lagrauliere. (an approximate one mile walk) A small market is held in Lagrauliere every Tuesday morning, complete with a truck selling live trout! The owners, along with a small Yorkshire terrier, Roxie, and a fat white cat named Lielow, live on the premises. Cooking and cleaning can be arranged, if required. The château houses a small library, with approximately 2,000 books in the chateau library. Our English-speaking guests need not worry about reading materials during their stay! A train station is located in nearby Uzerche. Our closest airport is in Brive-la-Gaillarde. The closest major international airport is in Toulouse, which is 2 hours and 13 minutes south, and has regular daily flights from Heathrow and Gatwick, Paris, Nice and most major European cities.